Milton S. Eisenhower Award
(Lindback Award from 1958 to 1991)
The Eisenhower Award for Distinguished Teaching, established in 1992, is generally awarded to two faculty who, in addition to being outstanding teachers themselves, have also provided some kind of support or mentoring to others. Milton S. Eisenhower was president of Penn State from 1950 to 1956.
2015 Recipients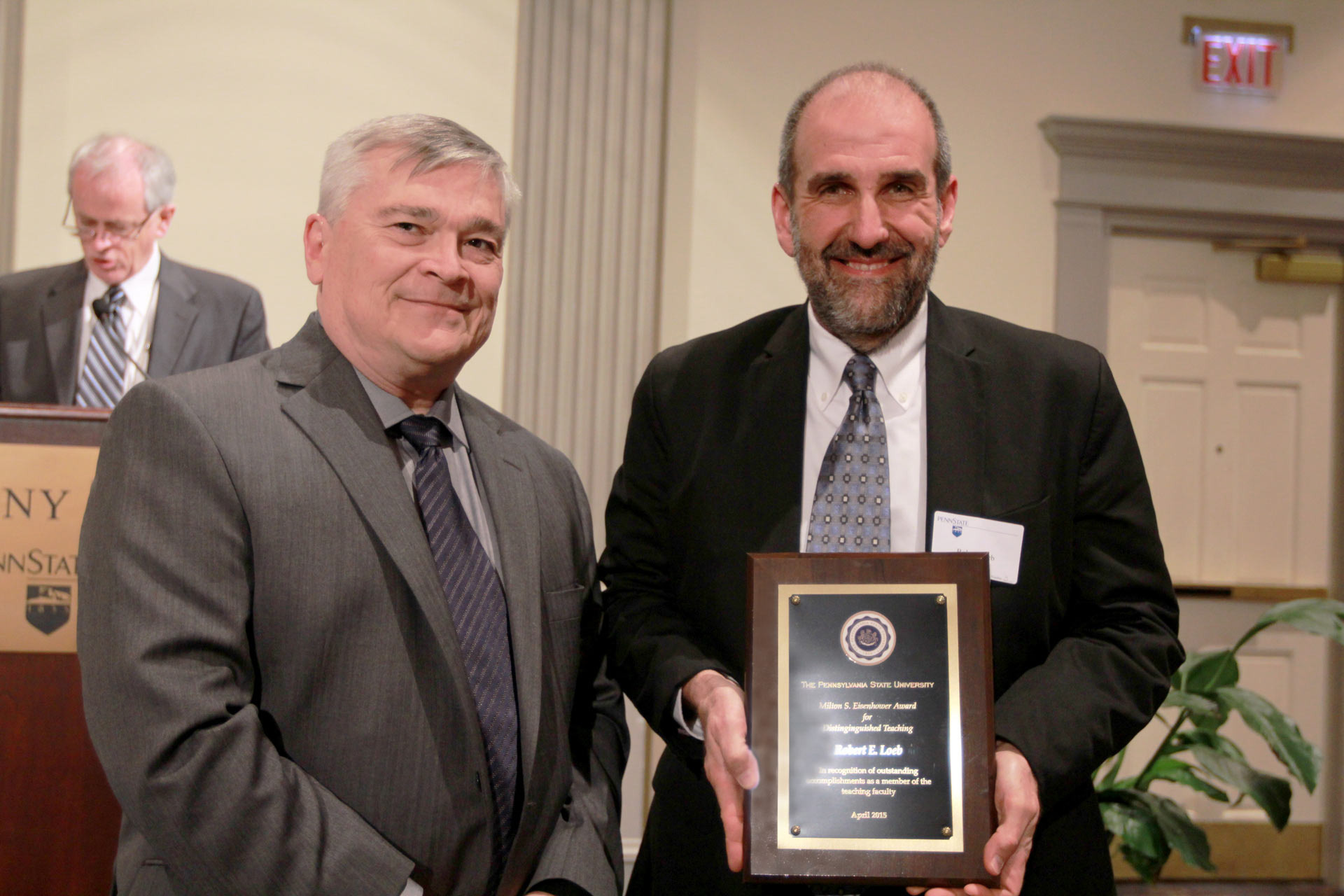 Robert Loeb
Associate Professor, Biology and Forestry, DuBois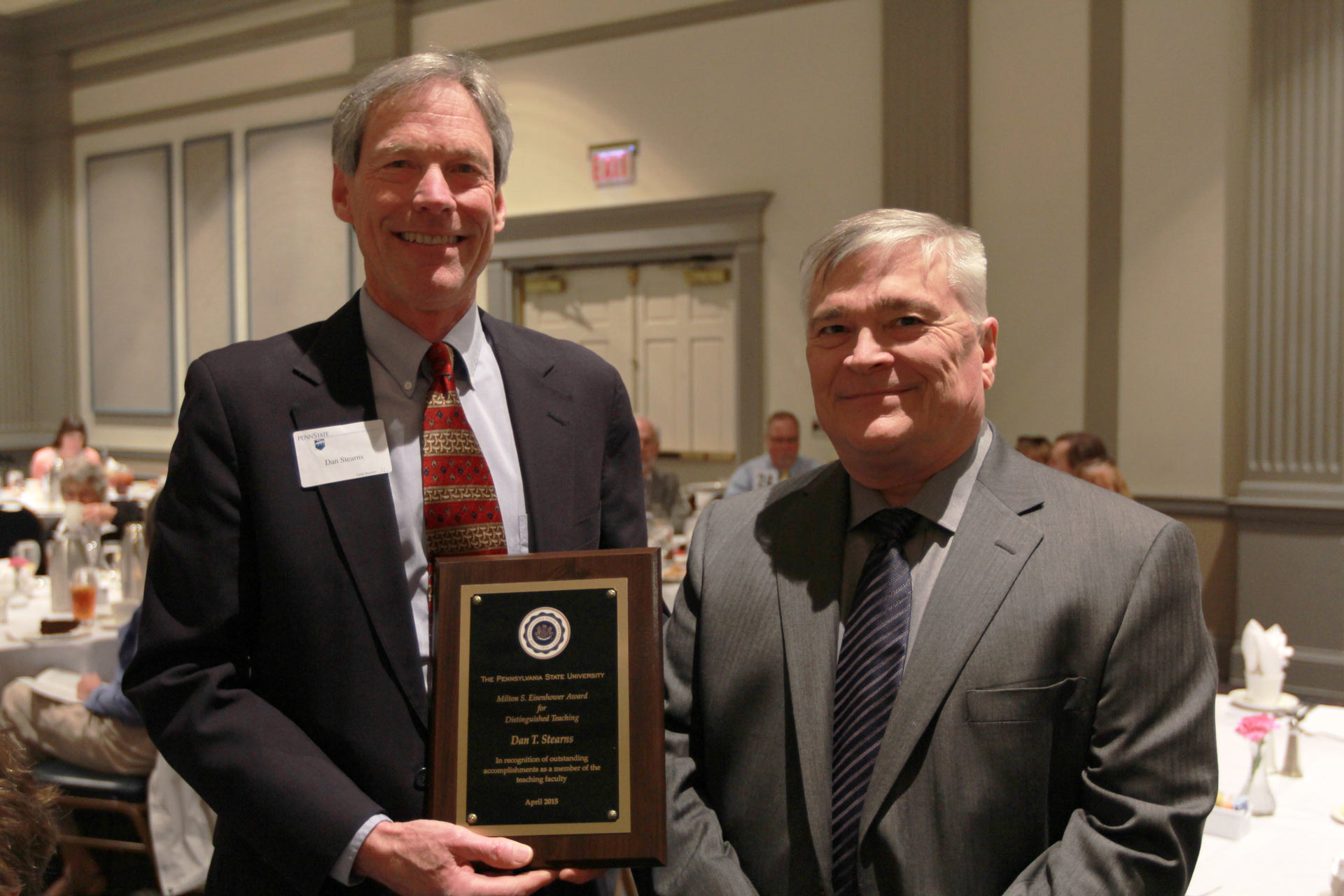 Dan Stearns
Franklin Styer Professor, Horticulture Botany, University Park
Image courtesy of Penn State University Libraries' Digital Collections.
---
2014 Recipients
Gamble, John, Distinguished Professor, Political Science and International Law, Director of Honors Programs, Behrend—Philosophy of Teaching
Trethewey, Martin, Arthur L. Glenn Professor of Mechanical Engineering, University Park—Philosophy of Teaching
2013 Recipients
2012 Recipients
2011 Recipients
2010 Recipient
Mahan, Carolyn, Associate Professor, Biology, Altoona
2009 Recipients
Shibley, Ike, Associate Professor, Chemistry, Berks
Wells, David, Associate Professor, Mathematics, New Kensington
2008 Recipients
Alley, Richard B., Evan Pugh Professor, Geosciences, University Park
Viswanathan, Nathan, Professor, Chemistry, Fayette
2007 Recipients
Gomez-Calderon, Javier, Professor, Mathematics, New Kensington
Grebski, Wieslaw, Associate Professor, Engineering, Hazleton
2006 Recipients
Melton, Robert G., Professor, Undergraduate Studies, University Park
Shapiro, David, Professor, Economics, Demography, and Women's Studies, University Park
2005 Recipients
Bridges, K. Robert, Associate Professor, Psychology, New Kensington
Weimer, Maryellen, Professor, Speech Communication, Berks
2004 Recipients
Morrisson, Mark, Associate Professor, English, University Park
Shoop, Linda, Associate Professor, Educational Psychology, New Kensington
2003 Recipients
Jarrett, Albert, Professor, Agricultural Engineering, University Park
Sharp, Jeffery, Associate Professor, Business Law, University Park
2002 Recipients
Furlong, Kevin, Professor, Geosciences, University Park
Sommer, Henry Joseph, Professor, Mechanical Engineering, University Park
2001 Recipients
Anderson, Douglas R., Associate Professor, Philosophy, University Park
Sokol, Paul E., Professor, Physics, University Park
2000 Recipients
Downs, Roger M., Professor, Geography, University Park
Findeis, Jill L., Associate Professor, Agricultural Economics, University Park
1999 Recipients
Burgess, Robert, Professor, Human Development and Family Studies, University Park
Helou, Charles, Assistant Professor, Mathematics, Delaware County
1998 Recipients
Litzinger, Thomas A., Professor, Mechanical Engineering, University Park
Thrower, Peter, Assistant Professor, Material Science and Engineering, University Park
1997 Recipients
Kirker, Constance, Associate Professor, Integrative Arts, Delaware
Turns, Stephen R., Associate Professor, Mechanical Engineering, University Park
1996 Recipients
Buckmaster, Elizabeth, Distinguished Professor, English, Delaware
Prakash, Madhu S., Associate Professor, Education, University Park
1995 Recipients
Achterberg, Cheryl, Associate Professor, Nutrition, University Park
Cimbala, Stephen, Associate Professor, Political Science, Delaware County
1994 Recipients
Duque, Manuel R., Associate Professor, Theater Arts, University Park
Zellner, Roger R., Assistant Professor, Visual Arts, Altoona
1993 Recipients
Beebee, Thomas O., Assistant Professor, Comparative Literature and German, University Park
Ozment, Judy L., Professor, Chemistry, Ogontz
1992 Recipients
Burkholder, Robert E., Associate Professor, English, University Park
Inserra, Louis, Assistant Professor, Architecture, University Park
1991 Recipients
Clement, Priscilla F., Assistant Professor, History, University Park
Love, Nancy S., Professor, Political Science, University Park
Marande, Robert P., Professor, Physics, Behrend-Erie
1990 Recipients
Bittner, Edward W., Assistant Professor, Chemistry, McKeesport
Brestensky, Dennis F., Associate Professor, English, Fayette
Rambeau, James M., Assistant Professor, English, University Park
West, Harry H., Professor, Civil Engineering, University Park
1989 Recipients
Bullington, Bruce, Associate Professor, Administration of Justice, University Park
Monroe, James L., Associate Professor, Physics, Beaver
1988 Recipients
Enscore, E. Emory, Jr., Professor, Industrial Engineering, University Park
Harrison, Ernest A., Jr., Professor, Chemistry, York
1987 Recipients
Anderson, Arthur K., Jr., Associate Professor, Architecture, University Park
Murphy, Bruce A., Associate Professor, Political Science, University Park
1986 Recipients
Fahnline, Donald E., Associate Professor, Physics, University Park
Spence, Larry D., Associate Professor, Political Science, University Park
1985 Recipients
Bragger, Jeanette D., Associate Professor, French, University Park
Manfull, Helen A., Associate Professor, Theater and Film, University Park
1984 Recipients
Buck, John C., Assistant Professor, English, University Park
Mills, Moylan C., Associate Professor, English, Humanities and the Arts, Ogontz
1983 Recipients
Kroger, Manfred, Professor, Food Science, University Park
Moore, John W., Jr., Assistant Professor, English, University Park
1982 Recipients
McCammon, Mary, Associate Professor, Mathematics, University Park
Schwartz, Lita L., Professor, Educational Psychology, Ogontz
1981 Recipients
Flay, Joseph C., Associate Professor, Philosophy, University Park
Lewis, Pierce F., Professor, Geography, University Park
1980 Recipients
Henszey, Benjamin N., Associate Professor, Business Law, University Park
Stere, Athleen J., Associate Professor, Biology, Altoona
1979 Recipients
Hirshfield, Claire, Associate Professor, History, Ogontz
York, Thomas M., Associate Professor, Aerospace Engineering, University Park
1978 Recipients
Fagan, Edward R., Professor, Education, University Park
Keiper, Ronald L., Associate Professor, Biology, Mont Alto
1977 Recipient
Christiansen, Monty L., Associate Professor, Rec, Parks and Landscape Architecture, University Park
1976 Recipients
Klass, Philip, Professor, English, University Park
Merrill, William, Jr., Professor, Plant Pathology, University Park
1975 Recipients
Grove, Murray Ellis, Associate Professor, General Education in the Arts, University Park
Shellenberger, Paul R., Associate Professor, Dairy Science, University Park
1974 Recipients
Goldberg, Stella, Associate Professor, Child Development and Family Relations, University Park
Guber, Albert, Associate Professor, Geology, University Park
1973 Recipients
Harrington, Joseph D., Professor, Agronomy, University Park
Holl, J. William, Professor, Aerospace Engineering, University Park
1972 Recipients
Campbell, W. Paul, Professor, Music Education, University Park
Douglas, Joseph F., Associate Professor, Engineering, York
1971 Recipients
Prybyla, Jan S., Professor, Economics, University Park
Schmalz, Robert F., Professor, Geology, University Park
1970 Recipients
Chomicky, Yar G., Professor, Art Education, University Park
McElwee, Agnes R., Professor, English Composition, University Park
1969 Recipients
Green, Robert W., Professor (Retired), European History, University Park
Pass, Vincent L., Associate Professor, Architectural Engineering, University Park
1968 Recipients
Lattman, Laurence H., Professor, Geomorphology, University Park
Richer, A. Chester, Professor, Soil Technology, University Park
1967 Recipients
Brickman, Arthur D., Professor, Mechanical Engineering, University Park
Goodfellow, Louis D., Associate Professor, Psychology, Altoona
1966 Recipients
Rubinstein, S. Leonard, Associate Professor (Retired), English, University Park
Thevaos, Deno G., Associate Professor (Retired), Education and Psychology, University Park
1965 Recipients
Isenberg, Melvin W., Professor, Architectural Engineering, University Park
Meahl, Robert P., Professor, Ornamental Horticulture, University Park
Mourant, John A., Professor (Retired), Philosophy, University Park
Oliver, Hayden C., Associate Professor, Music, Altoona
1964 Recipients
Cheng, Tien-Hsi, Professor, Science, University Park
Nichols, Edward J., Professor (Retired), English Composition, University Park
1963 Recipient
Mook, Maurice A., Professor, Anthropology, University Park
1962 Recipient
Stoner, Richard G., Professor, Physics, University Park
1961 Recipient
Tarpley, Harold I., Professor, Electrical Engineering, University Park
1960 Recipient
Dickson, Harold E., Professor (Retired), History of Arts and Architecture, University Park
1959 Recipient
Forster, Kent, Professor, European History, University Park
1958 Recipient
Smith, Kinsley R., Professor, Psychology, University Park