News & Announcements
Nominations Sought for Undergraduate Teaching Awards
Nominations are currently being accepted for Penn State Undergraduate Teaching Awards.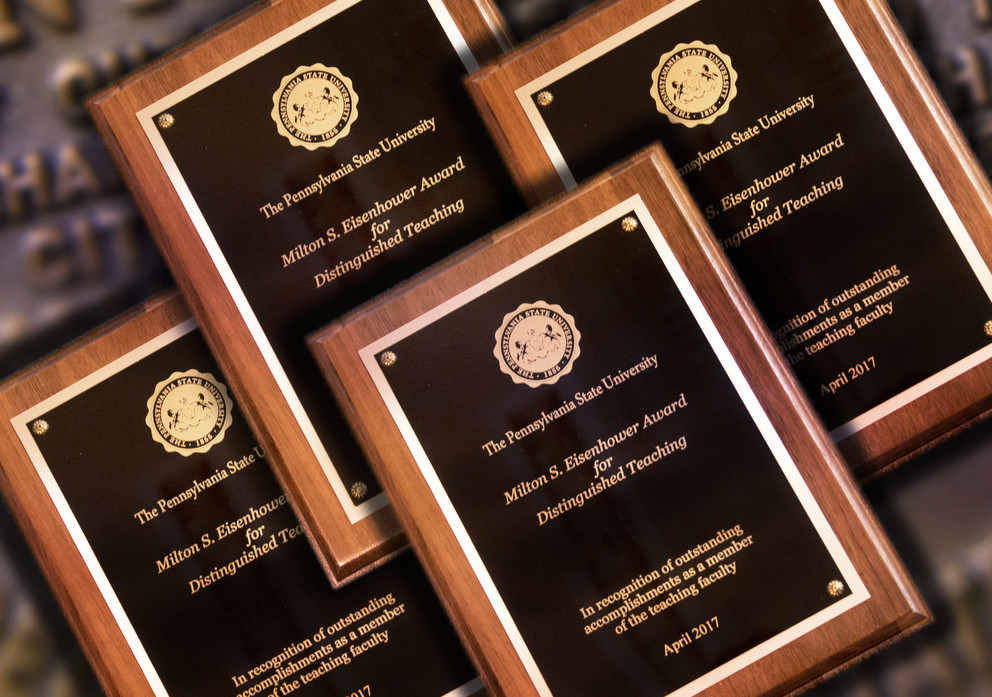 Anyone wishing to nominate an exceptional instructor can complete the online nomination form. We encourage nominations of online instructors, as well as instructors of face-to-face courses.
You may submit a nomination at any time. However, to be considered for a 2019 award, your nominations should be submitted prior to June 30, 2018. Nominations received after that date will be held for the 2020 review cycle.
For more information, please visit the Teaching Awards page or contact Brenda Yingling.
2018 Faculty Activity Insight Training Schedule
Join the Faculty Activity Management Services Team and members of the Activity Insight Oversight Committee for an overview of Activity Insight. All six dates will include the same information—pick one that fits your schedule.
Learn about new features
Get tips from the experts
Bring your questions
WHEN
Monday, May 14, 11:00 a.m. to 1:00 p.m.
Wednesday, May 16, 9:00 a.m. to 11:00 a.m.
Friday, May 18, 1:00 p.m. to 3:00 p.m.
Monday, August 20, 9:00 a.m. to 11:00 a.m.
Wednesday, August 22, 11:00 a.m. to 1:00 p.m.
Friday, August 24, 1:00 p.m. to 3:00 p.m.
All sessions will be held in the Paterno Library, Foster Auditorium. The Wednesday sessions will be live-streamed on Media Site Live, and recorded. To register visit, activityinsight.psu.edu/register. Seating is limited.
For more information, email L-AI-Support@lists.psu.edu.
Faculty and Students Study Resiliency and Lifelong Learning
Faculty and students at seven Penn State campuses worked with several measurement instruments during the 2017-18 academic year to explore lifelong learning and resiliency with the goal being to strengthen student success. The projects were funded by a teaching grant from the Schreyer Institute for Teaching Excellence and were supported by Teaching & Learning with Technology (TLT), as well as the leadership at the participating campuses.
In fall 2017, students took the Effective Lifelong Learning Inventory (ELLI – Vital Partnerships) and/or a resilience survey from the Center for Resilience Advisory, LLC, to get baseline information about themselves as learners. Participating faculty then had students use the information in class to develop self-awareness and strategies to support growth and success. 34 faculty members and nearly 800 students from Penn State's Altoona, Berks, Fayette, Mont Alto, Harrisburg, Lehigh Valley, and York campuses participated in the resilience project.
Suzanne Shaffer, TLT instructional designer stationed at the York Campus and coordinator of the multi-campus project, has been working with ELLI for the past five years with Penn State York students. "The Schreyer Teaching Grant gave us the opportunity to involve partners from multiple campuses. We found some valuable outcomes across campuses, including the impact of reflection in the growth process, common first-year profiles in lifelong learning dimensions, and the need to continue to work on building student resilience as well as critical curiosity," wrote Shaffer in her post-project report.
More information on all of the projects, including outcomes, resources, and lessons learned can be found at https://sites.psu.edu/resilience. Below are a variety of stories about the work completed at several of the participating campuses.
Penn State Mont Alto and Altoona
HDFS faculty members Lauren Jacobson-McConnell, Jackie Schwab, and Robin Yaure worked with their students in various ways to support growth, using ELLI, the resilience survey, and a variety of other instruments in both lower and upper division courses to build student success. Schwab reported, "Now that I have a better understanding of the lifelong learning components, I look forward to including them in all of my classes to more consciously support my students to be stronger learners in college and beyond." One of her students commented at the end of the course, "[My scores] actually changed dramatically and I'm very proud of myself. I was a little surprised at the results, but I know they are true because I worked hard this semester to make it work. I tried my best to work on changing my learning strategies for the better to make me a better student."
In her HDFS 129 classes, Robin Yaure uses multiple self-knowledge instruments. "[These tools enable students] to get an objective sense of themselves and then decide where they may want to change in order to be better students in the near term and [as] life-long learners as well."
Lauren Jacobson-McConnell used the project as an opportunity to consider the issue of "belongingness", especially with minority students and first generation students on her campus.
Penn State Lehigh Valley
Lehigh Valley was heavily involved in the project with approximately 200 First-Year Seminar (FYS) students participating. Kristy Hove, coordinator of the FYS courses, organized the efforts at her campus, working with 11 faculty members to integrate the resilience survey and content into their coursework. Shaffer visited the campus in fall 2017 to present strategies for community building, stress management, and self-reflection to those involved in the program. "It was an incredible experience to be able to share strategies that have made a difference in my own life and teaching with the campus community members. Everyone was very open and willing to try the strategies presented, from mindful breathing exercises to guided meditation and emotion-regulation."
This photo is from Lehigh Valley first-year student
Patrick Vega's reflection blog. "…we learned multiple ways on how to calm down in stress inducing situations. As a symbol of peace and tranquility, I created a lotus flower out of multiple slips of paper, [each with a]…source we could use to reduce stress, and in the center was a small stone with the word "Thrive" on it."
Penn State York
Lion Ambassadors, Nittany Success Center Tutors, PaSSS students, and students in various first-year courses were presented with information about building resilience as well as strategies to strengthen inner resources and challenge unproductive mindsets. Joan Smeltzer, lecturer in mathematics, is working closely with her students in two Math 21 sections in spring 2018 to embed resilience instruction into the course content. "In high school, review of math skills learned typically occurs each day the class meets. In most cases, this in-class review is sufficient to allow a student to achieve a reasonable level of success. However, in a college level class, students need to take responsibility for this review themselves outside of class time. Many developmental math students do not recognize the need to make this change, and earn exam grades that disappoint them. Those same students need to have or develop a level of resilience that allows them to recover from this disappointment, seek out additional resources needed to properly learn, and to adopt a new strategy for learning the math outside of class." Smeltzer is studying the impact of this intervention on student success via a formal Scholarship of
Teaching & Learning (SoTL) project and will be presenting the findings at the Pennsylvania Association of Developmental Educators conference in April.
In addition to these efforts, Dr. Margaret Mbindyo from Millersville University visited the York campus in late fall 2017. She spoke with students about her own research on resilience after which a student commented, "But I know on my path to these careers it isn't going to be all smooth sailing, I know there will be many ups and downs on my road to success. I know I should stay the course and be resilient, I must "take in the good" because I know the good will be able to lift me up when I need it. I'm not saying just blow off the bad because the bad will be able to teach you certain lessons in life."
Penn State Fayette, Beaver, & New Kensington Faculty Focus on Resilience & Self-Care
In January 2018, faculty from three western campuses gathered at Penn State Fayette for a Schreyer Institute for Teaching Excellence sponsored colloquy to explore the topics of resilience and self-care as they apply to the challenging and often stress-filled lives of faculty members. Organizers Cheryl Tkacs (Fayette & TLT) and Deborah Sillman (New Kensington) arranged for the presentation. Faculty members spent this time considering topics ranging from research on resilience and happiness to mindfulness practices and stress reduction.
Outcomes
Shaffer reports many favorable outcomes from the project. "This year, I have had the great pleasure to meet and work with students and faculty at many of our Penn State campuses. It continues to impress me how dedicated our Penn State faculty members are to their students' success. We have come to understand that teaching students how to reflect on their experiences and mindsets, giving them the time and space needed for such reflections to bear fruit, and providing strategies to help students work through the challenges that inevitably will come to them, is both empowering and life changing. Knowing that change is possible—physically, psychologically, intellectually, and emotionally—is also a key aspect of the work. Students don't often think about the power of changing mindsets to change outcomes. We work to help students see the underlying mindsets that may or may not be productive for them. The ability of the mind to change is just such a remarkable attribute that students haven't really considered oftentimes."
The larger resilience project was built upon five years of investigating lifelong learning attributes using ELLI, in which resilience (as one of the seven measured lifelong learning attributes) always showed slow growth, even with direct instruction. Benchmark samples comparing first-year and senior ELLI scores, however, do show statistically significant differences between the groups in most areas of lifelong learning, including resilience, demonstrating the ancillary growth that students do make in addition to content knowledge through the span of their college years. Shaffer concludes, "We know that students grow and change in areas other than their formal studies as a result of their college experiences. The work we have done with ELLI now gives us data to support these assumptions. The support received from the Schreyer Institute for Teaching Excellence, Teaching & Learning with Technology, and the leadership at the participating campuses made all of these efforts possible."
Teaching Students to Give Useful Qualitative Feedback
A timely blog post from the non-profit IDEA Center. The IDEA Center provides one of the most comprehensive, well-researched, and respected student ratings instrument in the nation.
Leveling the Playing Field? ALCs and Gender
March 8, 2018
In a recent article from EDUCAUSE, Leveling the Playing Field? ALCs and Gender, authors Walker and Baepler discuss how women students in large introductory sciences classes suffer a "gender penalty" even when controlling for academic performance. Active Learning Classrooms (ALCs) appear to reduce the gender penalty for women.
While the Penn State's Learning Spaces Leadership Committee is working to increase the number of ALCs available to faculty, faculty can make changes in how they teach their large intro courses that meaningfully engage all students in their own learning. Contact your Schreyer Institute Liaison to explore new strategies for teaching more actively and inclusively.
Instructor Empathy Towards Students
Faculty participants are needed to complete a short survey about empathy towards students. Researchers from The Leonhard Center for the Enhancement of Engineering Education are conducting a pilot test of a survey adapted to measure instructor empathy and gather reliability and validity evidence for future uses of the measure.
Participation in this assessment is completely voluntary and the responses within this survey will be kept completely confidential and no identifying information will be collected. Deadline is April 13.
Please use the following link to complete the survey: http://bit.ly/InstructorEmpathy. Questions about the survey should be sent to Stephanie Cutler.
Group Work
by K. J. Wilson, P. Brickman, and C. J. Brame, CBE—Life Sciences Education, Vol. 17(1). 22 Mar 2018
Do you use Group Work or Teams in your STEM courses? Are you new to using small groups in teaching? The most recent issue of CBE—Life Sciences Education journal includes an essay about an online teaching guide that provides an overview of research and resources about group work. While directed at STEM faculty new to group work or who have faced challenges implementing group work, this will be a useful read for faculty in and outside of the STEM disciplines.
2018 Stylus Author Webinar Series
In 2018, Stylus Publishing is offering a series of webinars to help readers connect with their authors. Dr. Katie Linder, host of the You've Got This podcast, will facilitate conversations with Stylus authors about their latest books and writing process. The following webinars are included:
February 23, 2018 @ 1pm PT, Joan Middendorf on Overcoming Student Learning Bottlenecks
April 20, 2018 @ 1pm PT, Linda Nilson on Creating Engaging Discussions
May 18, 2018 @ 1pm PT, Saundra McGuire on Teach Yourself How to Learn
Register for complimentary access to the webinar series as well as access to the webinar re-plays and transcripts, which will be available following the live events.
SRTEs Go Mobile!
This semester students can choose to submit SRTEs using the new mobile friendly web version for phones and tablets. No app download is necessary, upon sign-in students will see this option when they have active SRTEs to complete. Students may find it convenient to respond to open-ended questions using the voice-recognition built into their mobile devices.

Screen shot of Mobile SRTE icon.
When students choose the mobile option, they will see only one question at a time, rather than the entire SRTE form on their screens.
The regular web version SRTE is still available for students with laptops or without mobile devices.
Faculty will also be able to use the mobile version to check response rates for courses with active SRTEs. Those faculty who are concerned about response rates will be interested in taking advantage of this new functionality by asking students with mobile devices to complete their SRTEs during class.
Faculty: please remember that if you set aside class time for students to complete the SRTE, you need to leave the room.
Workshops & Seminars
9/6/2018, 4:00 - 6:00 p.m.