Nominations Sought for Undergraduate Teaching Awards
Nominations are currently being accepted for Penn State Undergraduate Teaching Awards.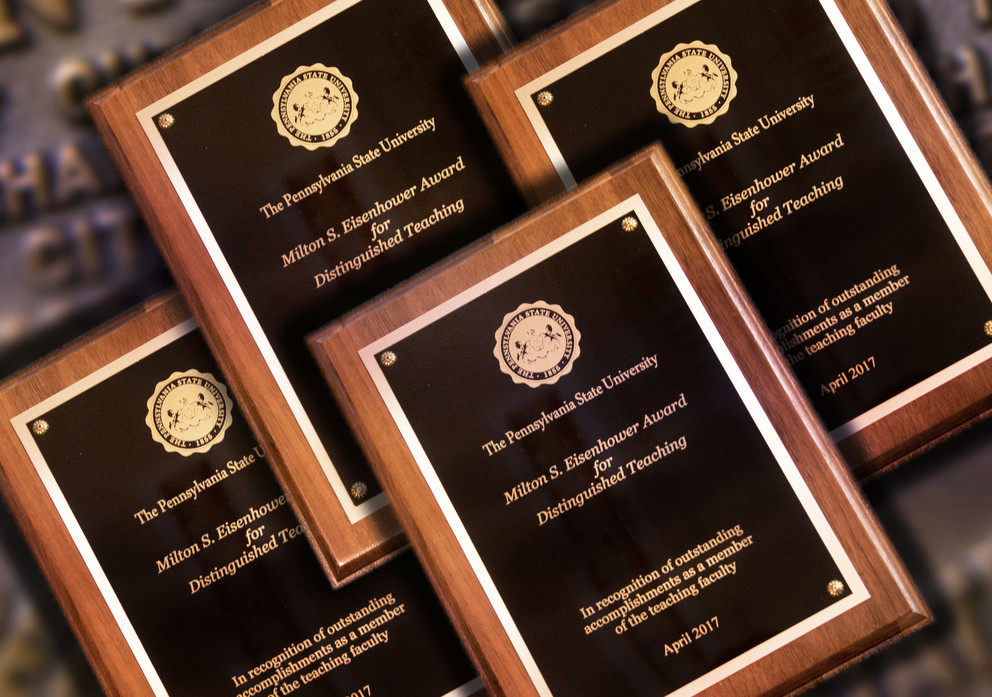 Anyone wishing to nominate an exceptional instructor can complete the online nomination form. We encourage nominations of online instructors, as well as instructors of face-to-face courses.
You may submit a nomination at any time. However, to be considered for a 2019 award, your nominations should be submitted prior to June 30, 2018. Nominations received after that date will be held for the 2020 review cycle.
For more information, please visit the Teaching Awards page or contact Brenda Yingling.
2018 Faculty Activity Insight Training Schedule
Join the Faculty Activity Management Services Team and members of the Activity Insight Oversight Committee for an overview of Activity Insight. All six dates will include the same information—pick one that fits your schedule.
Learn about new features
Get tips from the experts
Bring your questions
WHEN
Monday, May 14, 11:00 a.m. to 1:00 p.m.
Wednesday, May 16, 9:00 a.m. to 11:00 a.m.
Friday, May 18, 1:00 p.m. to 3:00 p.m.
Monday, August 20, 9:00 a.m. to 11:00 a.m.
Wednesday, August 22, 11:00 a.m. to 1:00 p.m.
Friday, August 24, 1:00 p.m. to 3:00 p.m.
All sessions will be held in the Paterno Library, Foster Auditorium. The Wednesday sessions will be live-streamed on Media Site Live, and recorded. To register visit, activityinsight.psu.edu/register. Seating is limited.
For more information, email L-AI-Support@lists.psu.edu.
Teaching Students to Give Useful Qualitative Feedback
A timely blog post from the non-profit IDEA Center. The IDEA Center provides one of the most comprehensive, well-researched, and respected student ratings instrument in the nation.
Leveling the Playing Field? ALCs and Gender
March 8, 2018
In a recent article from EDUCAUSE, Leveling the Playing Field? ALCs and Gender, authors Walker and Baepler discuss how women students in large introductory sciences classes suffer a "gender penalty" even when controlling for academic performance. Active Learning Classrooms (ALCs) appear to reduce the gender penalty for women.
While the Penn State's Learning Spaces Leadership Committee is working to increase the number of ALCs available to faculty, faculty can make changes in how they teach their large intro courses that meaningfully engage all students in their own learning. Contact your Schreyer Institute Liaison to explore new strategies for teaching more actively and inclusively.
Instructor Empathy Towards Students
Faculty participants are needed to complete a short survey about empathy towards students. Researchers from The Leonhard Center for the Enhancement of Engineering Education are conducting a pilot test of a survey adapted to measure instructor empathy and gather reliability and validity evidence for future uses of the measure.
Participation in this assessment is completely voluntary and the responses within this survey will be kept completely confidential and no identifying information will be collected. Deadline is April 13.
Please use the following link to complete the survey: http://bit.ly/InstructorEmpathy. Questions about the survey should be sent to Stephanie Cutler.
2018 Stylus Author Webinar Series
In 2018, Stylus Publishing is offering a series of webinars to help readers connect with their authors. Dr. Katie Linder, host of the You've Got This podcast, will facilitate conversations with Stylus authors about their latest books and writing process. The following webinars are included:
February 23, 2018 @ 1pm PT, Joan Middendorf on Overcoming Student Learning Bottlenecks
April 20, 2018 @ 1pm PT, Linda Nilson on Creating Engaging Discussions
May 18, 2018 @ 1pm PT, Saundra McGuire on Teach Yourself How to Learn
Register for complimentary access to the webinar series as well as access to the webinar re-plays and transcripts, which will be available following the live events.
SRTEs Go Mobile!
This semester students can choose to submit SRTEs using the new mobile friendly web version for phones and tablets. No app download is necessary, upon sign-in students will see this option when they have active SRTEs to complete. Students may find it convenient to respond to open-ended questions using the voice-recognition built into their mobile devices.

Screen shot of Mobile SRTE icon.
When students choose the mobile option, they will see only one question at a time, rather than the entire SRTE form on their screens.
The regular web version SRTE is still available for students with laptops or without mobile devices.
Faculty will also be able to use the mobile version to check response rates for courses with active SRTEs. Those faculty who are concerned about response rates will be interested in taking advantage of this new functionality by asking students with mobile devices to complete their SRTEs during class.
Faculty: please remember that if you set aside class time for students to complete the SRTE, you need to leave the room.